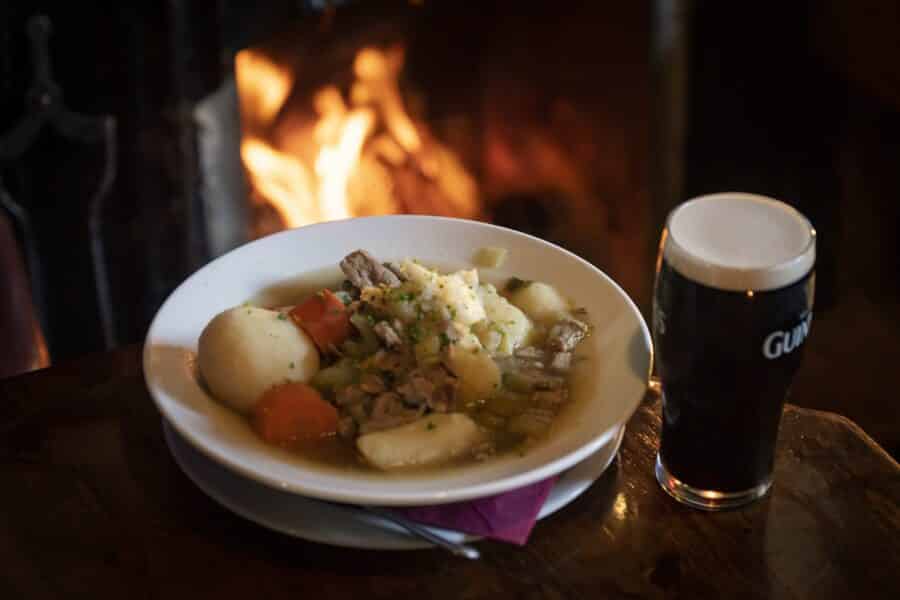 L'Irlanda è chiamata da sempre isola verde o isola di smeraldo, a causa della sua ricca vegetazione, ma oggi merita il titolo anche per la sua attenzione all'ecosostenibilità.
La ricettività alberghiera ad esempio offre innumerevoli soluzioni immerse nella natura, da quelle nella quiete dei boschi, con eco-chalet tutti in legno, a quelle in riva all'oceano, se non addirittura in mezzo all'oceano, in vecchi fari ristrutturati.
L'inverno è stagione ideale per godere del relax e comfort offerto da queste location, dove il fuoco crepita dolcemente nel camino, la tranquillità è totale, l'atmosfera è calda e mette allegria e se ci si affaccia alla finestra la vista rapisce lo sguardo.
Se per un Ponte festivo o per le vacanze natalizie si è in vena del sapore d'antan di antiche dimore trasformate in raffinati templi dell'accoglienza amici dell'ambiente, la scelta non manca, ma se, invece, si preferisce qualcosa di davvero particolare, magari in mezzo al verde o a un passo dall'oceano, l'Irlanda regala delle chicche a dir poco speciali.
E se, poi, si è in vena di un po' di struscio natalizio, in pochi chilometri, si raggiugono la capitale o altri centri in cui vivere la piacevolezza dei mercatini o delle vetrine addobbate a festa.
Castle Leslie Estate, contea di Monaghan
Castle Leslie Estate è una delle opzioni luxury per un soggiorno green style in un castello tra i più famosi dell'isola d'Irlanda. Il sito storico, che sorge quasi al confine con l'Irlanda del Nord, in una tenuta di oltre 400 ettari di campagna incontaminata, è stato recentemente sottoposto a un importante restauro che lo ha reso ancora più bello. Di giorno, le possibilità di divertirsi non mancano, tra un'uscita dedicata alla pesca o una cavalcata nella tenuta, mentre la sera ci si può rilassare con un libro, un distillato o una pinta di Guinness.
Per un pomeriggio speciale, ideale è la SPA, mentre per un momento da ricordare, una cena privata gourmet (sì, anche solo per due persone) in una delle tante sale del castello. Immancabile, soprattutto nel periodo natalizio, il peccato di gola dell'afternoon tea. Per un po' di shopping natalizio: il vicino Beese Bee Ceramics, che organizza anche laboratori.
Wild Rooms, contea di Wexford
Le Wild Rooms sono un'esperienza di vita all'aperto, caratterizzata da design unico, che potrebbe essere riassunta così: "camere eleganti nella natura più selvaggia", costruite con i migliori materiali e perfettamente inserite nel paesaggio circostante. Ogni Wild Room è stata realizzata, infatti, con pannelli termoisolanti, rivestimenti sostenibili e riscaldamento a pavimento, dettagli che la rendono un luogo accogliente e ideale per vivere un momento invernale davvero speciale.
Ogni "camera" non solo dispone di un bagno privato, ma è anche dotata di doccia tropicale, scalda-asciugamano e di eleganti ceramiche. Consiglio: la vista dalle vetrate sull'oceano e sulle notti stellate è sempre bellissima, ma vale la pena anche cercare un periodo di luna piena.
Drumhierny Woodland Hideaway, contea di Leitrim
Le Ireland's Hidden Heartlands sono perfette per una fuga dove la natura è davvero intatta. Luogo da scegliere per i mesi invernali è Drumhierny Woodland Hideaway, nella contea di Leitrim, con i suoi 16 lodge – con angolo cottura – che mescolano sapientemente vetro e legno, grazie a un design raffinatamente contemporaneo, all'insegna della sostenibilità.
Per allontanare lo stress e le tensioni, godendosi ancora di più l'atmosfera autenticamente selvaggia, una sauna, un bagno di alghe VOYA o in una vasca idromassaggio all'aperto. Di giorno ci si può deliziare con le proposte del Woopecker Cafè e se si vuole cenare fuori, luoghi come The Leitrim Inn o il Beirnes Pub sono perfetti per "uscire" dal silenzio perfetto del bosco.
 
Eco-Lodge Goleen Harbour, contea di West Cork
Un soggiorno a Goleen Harbour è un'esperienza dal sapore primordiale ai confini dell'Europa e alle porte dell'estremità sud della Wild Atlantic Way. Gli eco-cottage, dotati di tutti i comfort, con le loro ampie vetrate, regalano una vista incredibile sull'Atlantico, che è veramente a portata di mano con i suoi profumi e blu intensi. Le notti sotto le stelle, poi, sono ancor più belle, viste dalla vasca idromassaggio o attorno al fuoco.
È davvero facile dimenticare che si è a pochi passi dal villaggio di Goleen e dalla sua vivacità. Menzione speciale per la Sherkin EcoCabin, dotata di un timpano completamente vetrato che si affaccia sull'oceano, proprio in direzione dell'acuminato isolotto roccioso, sormontata dal faro di Fastnet Rock, spaziando fino a Sherkin Island.
Cabü by The Lakes, contea di Cavan
Cabü by The Lakes è un eco-gioiello – tra le più sofisticate cabin escape del Paese – nascosto nel Kilykenny Forest Park, affacciato sulle rive del Lough Oughter, nel Lake District. I cottage di legno sono volutamente semplici, ma l'atmosfera è calda e accogliente.
Dislocati attorno alla centrale Cabü House, edificio principale (raffinato spazio, con vasche idromassaggio e aree comuni in cui leggere, bere o mangiare qualcosa), sono un piccolo universo a parte in cui è comodamente possibile fare la spesa, organizzare escursioni e godersi la foresta, nella tenuta che misura più di 30 ettari.
Dotati di una cucina abitabile (attrezzata con forno a legna), con camera da letto e bagno separati, i cottage dispongono di uno spazio esterno privato, di un'illuminazione suggestiva e di un'ampia scelta di giochi e di curiosità.
 
St. John's Point Lighthouse, contea di Donegal
Chi desidera davvero fare un'esperienza atlantica dolcemente estrema, si deve spingere fino in fondo alla penisola – una delle più lunghe d'Irlanda – su cui si trova il faro di St. John's Point (parte dell'Irish Landmark Trust), nella contea di Donegal. Raggiungerlo in auto è davvero emozionante, vedendolo ergersi alla fine della lingua di terra che lo ospita.
Romantico, impervio, ma caratterizzato anche da dettagli ricercati, oltre a vedute incredibili, offre una soluzione a dir poco insolita per scoprire le delizie del selvaggio e meraviglioso Donegal. Molto raccomandata l'esplorazione delle altre proposte dell'Irish Landmark.
 
Limepark, contea di Antrim
Limepark, in Irlanda del Nord, è un'antica tenuta a vocazione agricola, unica nel suo genere, risalente al 17° secolo. I suoi raffinati cottage, che profumano di storia, sono la base perfetta per rilassarsi respirando tutto il calore di un autentico country stile, a un passo da attrazioni spettacolari tutto l'anno come la Giant's Causeway, il ponte di corda di Carrick-a-Reade, la celeberrima strada alberata Dark Hedges, immortalata da "Game of Thrones", e la Bushmills Distillery, indirizzo perfetto per una visita e acquisti natalizi di qualche chicca invecchiata.
Gli arredamenti e i complementi di tutti gli spazi sono davvero molto belli, con dettagli preziosi come tappeti antichi, camini originali, mattoni a vista, poltrone in pelle e librerie ben fornite. La versatilità delle soluzioni rende Limepark il luogo ideale per soggiorni di gruppo.
Blackhead Lightkeeper's House, contea di Antrim
Atmosfere da lupi di mare in Irlanda del Nord per una vacanza in un'autentica casa di un guardiano del faro, vero e proprio rifugio invernale da sogno, arroccato su una scenografica scogliera. Accanto sorge, appunto, il faro di Blackhead, la cui luce ha guidato in passato alcune delle navi più famose mai uscite dai cantieri navali di Belfast, tra cui il Titanic.
Gestita dall'Irish Landmark (https://www.irishlandmark.com), come si conviene a una dimora di questo tipo, ha un'impronta un po' spartana, ma non priva di fascino, con camini, pavimenti in legno e mobili d'epoca, nonché angolo cottura. I paesaggi marini mozzafiato che si ammirano dalle finestre si apprezzano meglio se accompagnati dal calore e i suoni del fuoco acceso.
 
Isola privata di Lusty Beg, contea di Fermanagh
Sì, è proprio così: Lusty Beg è un'isola privata, circondata dalle acque del Lower Lough Erne, nella regione dei laghi di Fermanagh, in Irlanda del Nord. Offre una serie di lodge e chalet progettati per creare le condizioni ideali per un soggiorno davvero rilassante e piacevole.
Con spazio, paesaggio e comfort in abbondanza, tutto ciò che si deve fare è rilassarsi. Incantevole la SPA inondata di luce naturale, che propone trattamenti rigeneranti a base di alghe, perfetti per regalare al corpo una sferzata di vitalità e nutrimento, rafforzandolo in pieno inverno. Ottime anche le opportunità legate al cibo.
 
Killyhevlin Hotel & Lodge, contea di Fermanagh
Un'altra proposta per chi ama le atmosfere lacustri, nella contea di Fermanagh sono i lodge e le camere del Killyhevlin Hotel. I lodge con angolo cottura, sono immersi nei boschi e proprio in riva al lago, all'interno della tenuta.
Menzione speciale per la vista sul lago offerta dalle camere dell'hotel e per la ricchezza delle attività che offre il complesso, combinazione ideale tra le condizioni ottimali per una fuga in cui la natura è regina e servizi luxury style, fra cui la SPA, un ristorante di fine dining e un raffinato cocktail bar.
E per il mese del Natale, in programma divertenti attività per tutti, fra cui una serata con i fuochi d'artificio (2 dicembre) e pranzi domenicali in compagnia di Babbo Natale.
Ugo Dell'Arciprete