Abu Dhabi è la destinazione perfetta per conoscere e  vivere l'esperienza del Ramadan,  tra eventi culinari sotto le stelle, sulla spiaggia o circondati da animali selvatici.
Il Ramadan è un mese di riflessione, di celebrazioni, di unione e di pasti sontuosi, e Abu Dhabi ha messo a punto un programma di eventi imperdibili per rendere il mese santo ancora più speciale per tutti i suoi visitatori e residenti.
In collaborazione con le istituzioni e organizzazioni culturali, di ospitalità e di intrattenimento della capitale, il Dipartimento della Cultura e del Turismo – Abu Dhabi (DCT Abu Dhabi) ha annunciato una serie di esperienze di iftar e suhoor per tutti per celebrare il Ramadan in vero stile arabo.
La maggior parte degli hotel, dei ristoranti e delle attrazioni turistiche dell'emirato offrirà esperienze culinarie speciali, oltre ad attività emozionanti e memorabili per visitatori e residenti.
Iftar con i leoni – Al Ain Zoo, Al Ain
In occasione del Ramadan, cenate con i leoni allo zoo di Al Ain per un'esperienza iftar davvero unica e memorabile.
Disponibile tutti i giorni dalle 17:30 alle 20:00, l'esperienza include anche un tour al tramonto gestito dall'Al Ain Safari, stuzzicando il tuo appetito per una straordinaria esperienza gastronomica ai confini del territorio dei leoni.
Questa esperienza lussuosamente selvaggia si rivolge a gruppi di 4 – 12 persone, dai 12 anni in su.
Le prenotazioni devono essere effettuate con almeno 48 ore di anticipo.
Iftar con le giraffe – Emirates Park Zoo, Al Bahia
Una serata iftar con le giraffe vi aspetta all'Emirates Park Zoo, insieme all'opportunità di nutrire questi affascinanti erbivori.
Questa speciale esperienza è aperta a gruppi di massimo cinque persone e dura circa due ore, a partire dalle 18:30.
Per coloro che desiderano trascorrere la giornata, la prenotazione dell'iftar include l'ingresso gratuito per l'intera giornata allo zoo, più una guida ambientale gratuita e un'eclettica esperienza di percussioni africane.
Iftar con gli elefanti – Emirates Park Zoo, Al Bahia
Altrettanto elettrizzante è la serata iftar con gli elefanti, che include anche l'ingresso gratuito per l'intera giornata all'Emirates Park Zoo e una cena a menu fisso nell'arena insieme ai pachidermi.
L'esperienza prevede anche una sessione di tamburi africani, una lezione sul comportamento degli elefanti e l'interazione con questi giganti gentili, compresa la possibilità di dar loro da mangiare.
L'Iftar con gli elefanti è aperto a gruppi fino a 12 persone e dura circa due ore, a partire dalle 18:30.
Iftar al Louvre Abu Dhabi – Fouquet's Abu Dhabi e Art Lounge, Louvre Abu Dhabi, Saadiyat Island
Festeggia la magia del Ramadan nel primo museo universale del mondo arabo e goditi un sontuoso iftar sotto l'iconica cupola di Jean Nouvel.
Rompi il digiuno con un'incredibile esperienza di iftar emiratino-francese al Fouquet's Abu Dhabi, o gusta spuntini leggeri sul pittoresco tetto dell'Art Lounge, entrambi al Louvre Abu Dhabi, Saadiyat Island.
Il menu iftar emiratino-francese di tre portate al Fouquet's Abu Dhabi, al prezzo di AED 390 a persona, e il menu Iftar à la carte all'Art Lounge, sono entrambi disponibili dal tramonto alle 22 per tutto il mese di Ramadan.
Per prenotazioni di tavoli al Fouquet's Abu Dhabi, chiamare lo 02 205 4200, WhatsApp 050 699 6781 o email contact-fouquets-abudhabi@groupebarriere.com.
Per prenotazioni di tavoli all'Art Lounge: chiamare lo 02 205 4225, WhatsApp 050 699 6375 o emailmhamdui@groupebarriere.com.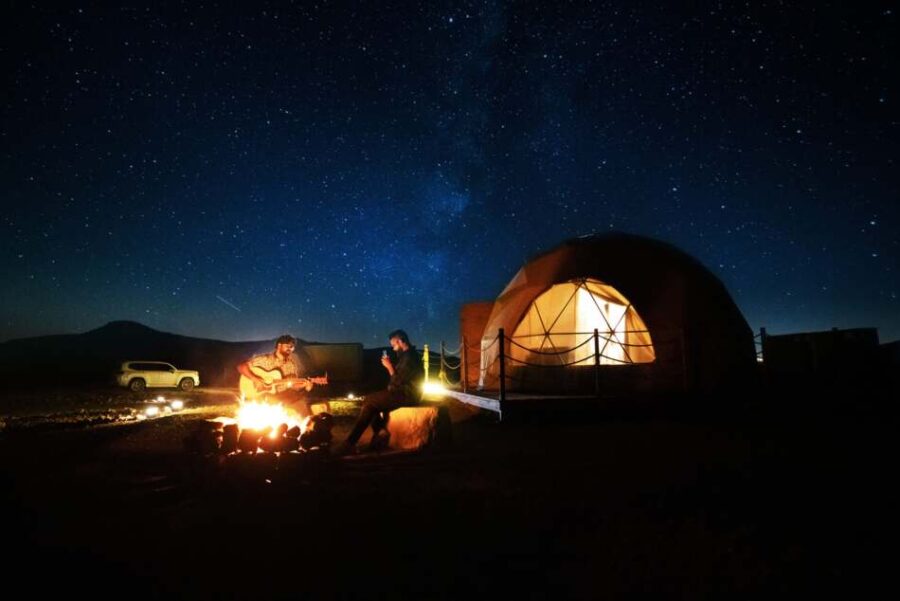 Suhoor sulla spiaggia – Park Hyatt Abu Dhabi Hotel and Villas, Saadiyat Island
Vivi un'esperienza di suhoor di lusso in stile beduino al Park Hyatt Abu Dhabi Hotel and Villas.
Durante il Mese Santo, l'evento speciale "Suhoor on the Beach" dell'hotel offre tè Suhoor in stile arabo o francese e il tuo Hubbly-Bubbly preferito in un ambiente sereno, lontano dal trambusto della città.
L'esperienza sarà aperta dalle 21:00 all'1:00 per tutto il Ramadan e include intrattenimento di musica araba dal vivo con performance di Oud o Qanoon.
 Iftar e Suhoor in uno Sky Bubble o Skylight Dome – Jebel Hafit Desert Park, Al Ain
Assapora sapori deliziosi sotto le stelle e sullo sfondo mozzafiato di Jebel Hafit con una serie di esperienze iftar e suhoor curate all'Hafit Foothills Lounge by Pura. Immergiti nell'ambiente rilassante del Pura Eco Retreat – Jebel Hafit Desert Park e approfitta dell'iftar all'Hafit Foothills Lounge alle 19:00 e del suhoor dalle 21:00 ogni giorno del mese.
Non perdete l'opportunità di sperimentare la vera natura del deserto nel comfort della vostra Sky Bubble o Skylight Dome, lasciandovi affascinare dal falò che inizia alle 21 di ogni sera.
Iftar presso il World's First Warner Bros. Hotel – The WB™ Abu Dhabi, Yas Island
Suhoor al Grand Lawn – The Ritz-Carlton Abu Dhabi, Grand Canal, Khor Al Maqta'a
Una stuzzicante esperienza di suhoor ti aspetta all'aperto sul Grand Lawn con vista sulla Sheikh Zayed Grand Mosque di Abu Dhabi.
Le serate di Ramadan al The Ritz-Carlton Abu Dhabi offriranno un menu suhoor à la carte, con specialità arabe e sapori di shisha d'autore, dalle 21:00 alle 2:00 tutti i giorni durante il Ramadan, mentre vi godete l'esperienza nell'ambiente in stile lounge o dalla vostra cabana semi-privata.
Crociera iftar lungo la Corniche – Royal Yacht Restaurant, Abu Dhabi Corniche
In occasione di questo Ramadan, prendete il largo per una crociera idilliaca lungo l'iconica Corniche di Abu Dhabi, ammirando la vista dello scintillante skyline della città.
La speciale crociera iftar di Royal Yacht includerà un buffet internazionale aperto, oltre a deliziosi succhi e dolci del Ramadan. La crociera dura un'ora e si svolge dalle 18:30 alle 19:30 tutti i giorni, partendo dal Marina Mall e navigando lungo la Corniche e la Mina prima di tornare al Marina Mall.
Per scoprire altre incredibili esperienze di Ramadan in giro per l'emirato, visita ramadan.visitabudhabi.ae.
Dipartimento della Cultura e del Turismo – Abu Dhabi (DCT Abu Dhabi)
Il Dipartimento della Cultura e del Turismo – Abu Dhabi (DCT Abu Dhabi) guida la crescita sostenibile della cultura, del turismo e dei settori creativi di Abu Dhabi, alimenta il progresso economico e aiuta a raggiungere le più ampie ambizioni globali di Abu Dhabi.
Lavorando in collaborazione con le organizzazioni che definiscono la posizione dell'emirato come destinazione internazionale leader, DCT Abu Dhabi si sforza di unire l'ecosistema intorno a una visione condivisa del potenziale dell'emirato, coordinare gli sforzi e gli investimenti, fornire soluzioni innovative e utilizzare i migliori strumenti, politiche e sistemi per sostenere le industrie della cultura e del turismo.   
La visione di DCT Abu Dhabi è definita dalle persone, dal patrimonio e dal paesaggio dell'emirato. Lavoriamo per migliorare lo status di Abu Dhabi come luogo di autenticità, innovazione ed esperienze ineguagliabili, rappresentate dalle sue tradizioni vive di ospitalità, iniziative pionieristiche e pensiero creativo.  
Per maggiori informazioni su DCT Abu Dhabi e sulla destinazione, visita i siti tcaabudhabi.ae e visitabudhabi.ae
Per il calendari di Abu Dhabi visita inabudhabi.ae