Dublino e Belfast, a Natale le destinazioni dove vivere il lusso, tra hotel di charme, wellness, personal shopping e ristoranti con Stella Michelin.
Ecco qualche indicazione per vivere al meglio le feste natalizie a Dublino e Belfast, due delle più belle città d'Irlanda, con possibilità che spaziano

dall'hôtellerie di grande charme ai piaceri dello shopping d'autore e della gastronomia stellata. 
A Dublino e Belfast c'è tempo e voglia di rilassarsi, per godere appieno di ciò che la vita offre, dopo le restrizioni degli ultimi mesi.  
Il meglio di Dublino:
È una delle istituzioni della città, per eccellenza e reputazione, ospitata da quattro residenze in stile Georgiano finemente restaurate.
Il servizio è impeccabile e in questo piccolo mondo a parte, intimamente connesso, però, con il cuore della capitale, si possono trascorrere ore letteralmente d'incanto come il benessere nella Spa & Health Club, le nuotate nella piscina di 18 metri o tutto ciò che riguarda il gusto, dall'intimo No. 23 Cocktail Bar all'opulenza dei piatti del ristorante 2 stelle Michelin Patrick Guilbaud.
A dir poco speciali le attività e gli addobbi dedicati al Natale!
Istituzione nell'istituzione, il ristorante bistellato Patrick Guilbaud, ospitato dal perimetro del Merrion Hotel, è un vero e proprio viaggio attraverso i sapori, reso straordinario dalla selezione delle materie prime (fieramente locali) e dalla padronanza di tecniche sofisticate che le magnificano.
Menzione speciale per le formule che contemplano menù degustazione a sorpresa di 4 e 8 portate, realizzati sulla base degli ingredienti di stagione, o un agile e delizioso menu per il pranzo che varia ogni giorno.
Per avere un'idea del grande estro dello chef è sufficiente citare solo paio di esempi di appetisers: capesante crude marinate, cavolo rapa, levistico, mela verde e rafano e croquette di maialino da latte, uovo di quaglia fritto, foie gras, bacon e mostarda di pepe rosso.
Altra istituzione dublinese è il 5 stelle Shelbourne Hotel, a un passo dal centralissimo parco St. Stephen's Green, da quasi 200 anni punto nevralgico di ciò che accade nella capitale.
Vale la pena attraversarne le porte anche per un semplice caffè, che permette di far proprio seppur solo per una manciata di minuti il suo sfarzo.
E se ci si vuol fare un regalo di quelli davvero speciali è d'obbligo la sua SPA: il programma trattamenti è davvero completo con un focus specifico anche sulla pelle (Skin Resurfacer o Anti-Pigment Brightener) e una sala relax con una vista sontuosa!
A Natale (o in qualsiasi momento) dell'anno lo shopping può essere un momento bellissimo, ma anche una corsa a ostacoli piena di incognite.
Non, però, se ci si può rilassare grazie all'aiuto mirato di un personal shopper a cui affidare i propri desideri!
Luogo perfetto per realizzarli a Dublino è il luxury store Brown Thomas, con ben 8 figure responsabili di questo servizio, specializzate in differenti ambiti (linee maschili, linee femminili, sartoria, articoli per la casa, beauty…).
E per organizzare al meglio il proprio tempo ed essere accompagnati sapendo esattamente cosa si vorrà andare a cercare, il servizio può essere prenotato anche online!
 Se si desidera provare un marchio relativamente nuovo, il Roe & Co Irish Whiskey è una buona scelta. Prodotto nel quartiere del whiskey di Dublino, chiamato Liberties, questo single malt miscelato si ispira a George Roe, produttore di whiskey di fama mondiale che ha contribuito a costruire l'epoca d'oro del whiskey irlandese nel diciannovesimo secolo.
Per imparare l'arte del whiskey blending come George Roe è possibile partecipare alla 'Old Fashioned Master Class' nella Room 106, mentre gli amanti dei cocktail potranno cimentarsi nel The Flavours Workshop dedicato alla preparazione di questi drink.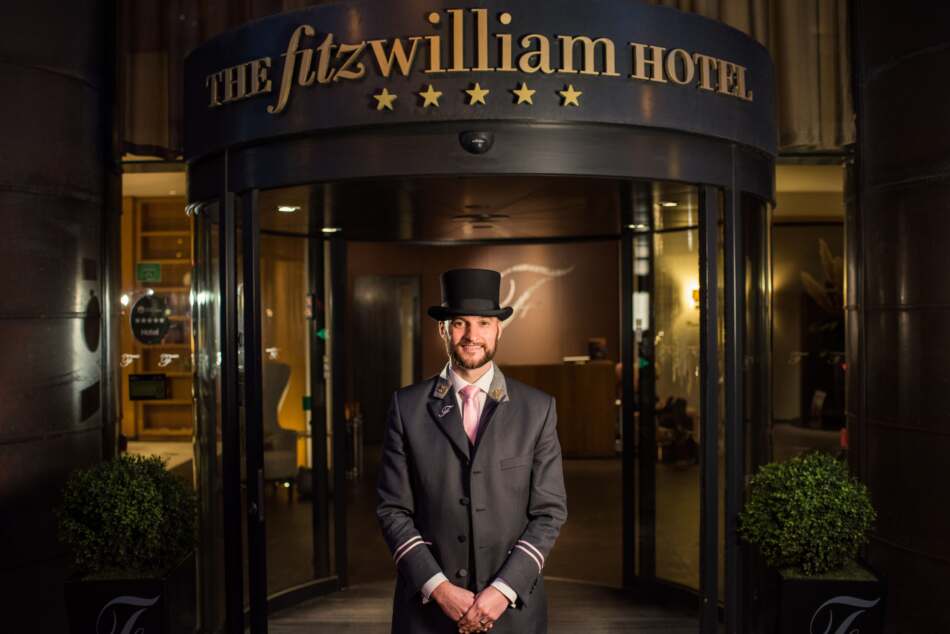 Il meglio di Belfast:
 Se si desidera il meglio, questo hotel, posizionato nel cuore di Belfast, è il luogo ideale, per scoprire la città da un punto di vista bellissimo. L'atmosfera è sofisticatamente contemporanea, con pezzi di raffinato design e dettagli d'autore. Fuori dal comune anche l'offerta legata alle esperienze di gusto, compreso The Bar, spazio ultra chic, ideale per assaporare un cocktail fatto a regola d'arte.
Tra i plus, la vista che si gode dalle camere con le ampie vetrate, con scorci splendidi come quello che affaccia sulle architetture gotiche della Presbyterian Church o che lasciano intravedere il mare. Anche per questo hotel, d'eccezione le proposte e le ambientazioni per le prossime festività natalizie.
Per una fuga di benessere, a un passo dalla città, la scelta perfetta è Culloden Estate and Spa, proprietà di quasi 5 ettari che guarda il Belfast Lough e il blu intenso del mare della contea di Antrim. In passato, residenza vescovile, è oggi un buen retiro che ha nell'offerta wellness uno dei suoi punti di forza.
Un esempio? Il rituale Celtic Dream, creato per sciogliere le tensioni, lenire e ravvivare mente e corpo. Si inizia con un impacco oceanico, che prevede un'applicazione delicata di fango marino ricco di minerali per idratare intensamente.
A seguire, massaggio rilassante per i muscoli della schiena con pietre calde riscaldanti e per concludere massaggio orientale del cuoio capelluto.
 Un terreno di gioco pazzesco e molto tecnico, immerso in un paesaggio fuori dal comune: così si potrebbe definire The Royal County Down Golf Club, green parte dalla Riserva Naturale di Murlough. Dista circa tre quarti d'ora di auto da Belfast e gli fanno da quinta i profili delle Mourne Mountains e da orizzonte le rive della baia di Dundrum.
Fondato nel 1889 da un gruppo di businessmen di Belfast, è famoso per la vista spettacolare che si gode da ognuna delle 18 buche.
Curiosità: la buca numero 9 è una delle più fotografate del mondo. Degni di nota anche la stilosissima Cubhouse, con ottimi ristorante e cocktail bar, e il nuovo Pro Shop.
 L'afternoon tea è un vero e proprio rito e non si può andare via dall'isola d'Irlanda senza averlo provato in luoghi ammantati da un fascino regale come The Merchant Hotel.
La sala del Great Room Restaurant in cui viene servito è la più grandiosa di Belfast ed è ricca di elementi originali vittoriani.
Il menu è sontuoso con piccole delizie squisite come i sandwich al salmone affumicato e carciofo marinato o al prosciutto irlandese e remoulade di sedano rapa. Immancabili, naturalmente gli scones, friabili e delicati, da gustare semplici o alla frutta.
Divertente la versione Champagne Afternoon Tea, accompagnata da bolle d'annata.
Curato alla perfezione ogni singolo dettaglio per una gioia degli occhi identica a quella del palato.
Per il sesto anno consecutivo si è guadagnato la stella e dire che è un trionfo locale non è un luogo comune. A partire dallo chef Alex Green che viene dalla zona di Dundrum, poco distante dalla città. La sua ricerca sulle eccellenze territoriali è meticolosa e appassionata ed è sufficiente dare uno sguardo ai menù per capirlo al volo, con piatti come quello a base di manzo e ostriche, aromatizzato al levistico.
Per non parlare di dolci all'apparenza semplici quanto perfetti come lo yogurt di latte di pecora alle more, cioccolato bianco e yuzu.
Divertenti e accessibili le formule del pranzo che, a prezzi diversi, prevedono 2 o 3 piatti principali. Fortemente consigliato il menù a sorpresa serale, pensato ogni giorno dallo chef sulla base dei prodotti trovati al mercato di riferimento o dai fornitori di fiducia.